587 reviews
✔ Getragen bei den Olympischen Spielen 2022
✔ Getragen bei der Freeride World Tour
Regular price
Sale price
CHF 189.00
Unit price
per
Sold out
MAGNETISCHES SCHNELLWECHSEL SYSTEM

Tausche das Glas mit einem Klick ohne den Helm oder die Brille abzunehmen und verlass dich auf die Kraft der extra starken Magnete
POLARISIERT GLAS VLT 8% (Schwarz) / 14% (Blau)

In der Schweiz entwickelte polarisierte TAC-glas (Tri-Acetat-Zellulose). Unsere polarisierte Glastechnologie ist perfekt für sonnige Tage und wurde speziell entwickelt, um die Blendung durch Schnee zu reduzieren und gleichzeitig eine perfekte Definition beizubehalten. Alle Gläser der Vertical Unit bieten das höchste Schutzniveau mit 100 % UV-Schutz bis 400 Nanometer, geeignet für große Höhen.
LOWLIGHT WHITEOUT GLAS VLT 76%

Unsere Lowlight-glas wurde in der Schweiz entwickelt und perfektioniert, um Ihnen die
beste Sicht zu bieten, wenn sich die Bedingungen verschlechtern. Die perfekte Kombination aus Glasentönung und Beschichtung bietet eine hervorragende weiße
Landschaftsdefinition mit einem VLT-Wert von 76%. Alle Gläser der Vertical Unit bieten das höchste Schutzniveau mit 100 % UV-Schutz bis 400 Nanometer, geeignet für große Höhen.
View full details
EU/CH Kostenloser Versand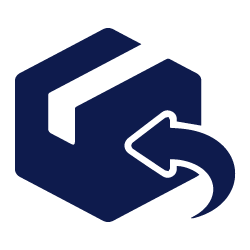 30 TAGE Tage Rückgaberecht
Lebenslange Garantie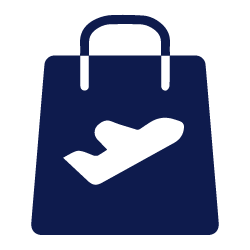 Kein EU Steuern
"The highlight is the magnetic quick-change system, with which you can swap lenses with just one click."

"All the trendy features with first-class quality at a good price."

"Fulfills all wishes. Very comfortable, large field of vision, high wearing comfort, good contrast enhancement, lens replacement."

"These polarized ski goggles with interchangeable lenses combine all the important features."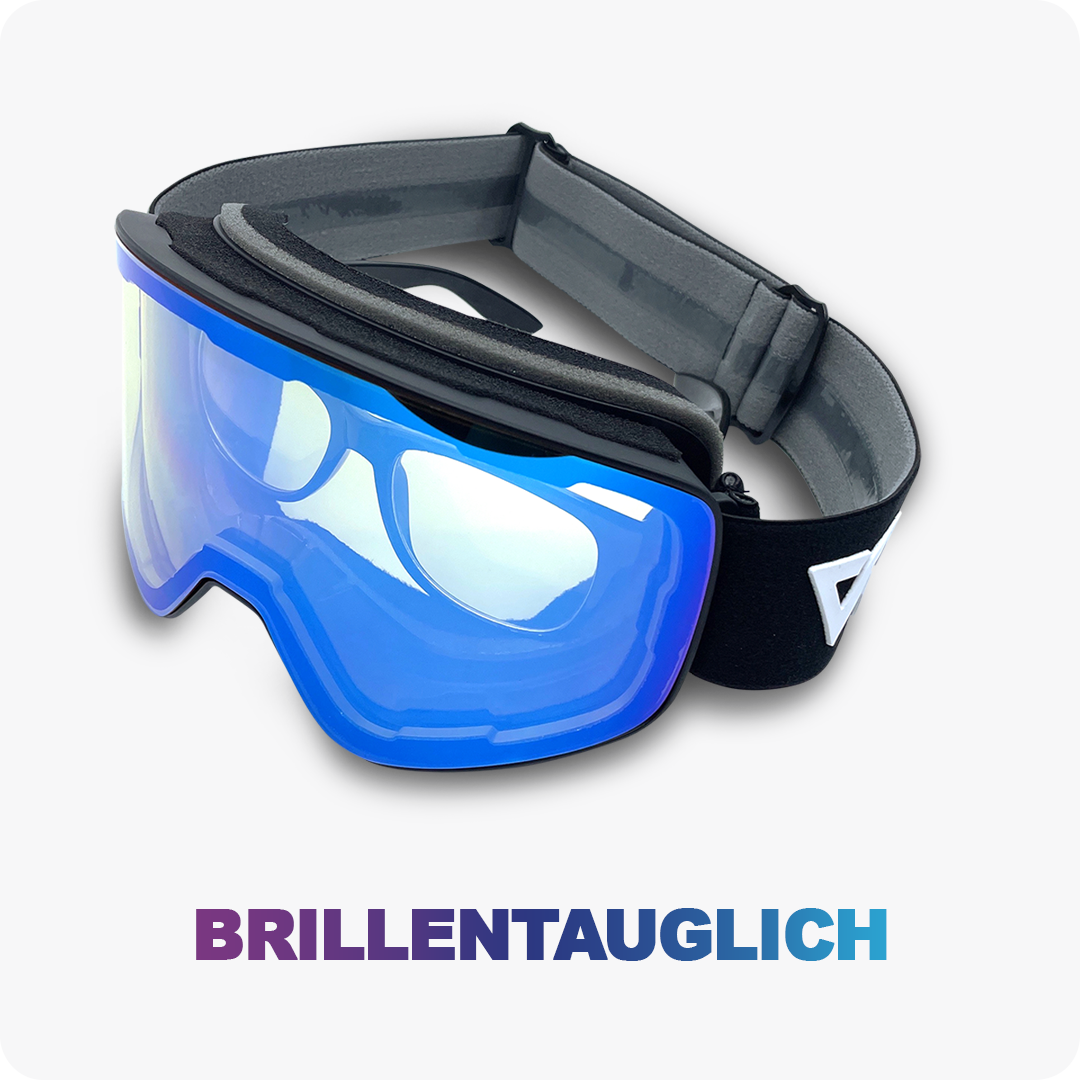 BRILLENTAUGLICH
Die zweite Generation unserer Blaze ist neu mit "Over The Glasses" (OTG) Kompatibilität ausgestattet, sodass Du Deine normale Brille mit Sehstärke bequem unter der Skibrille tragen kannst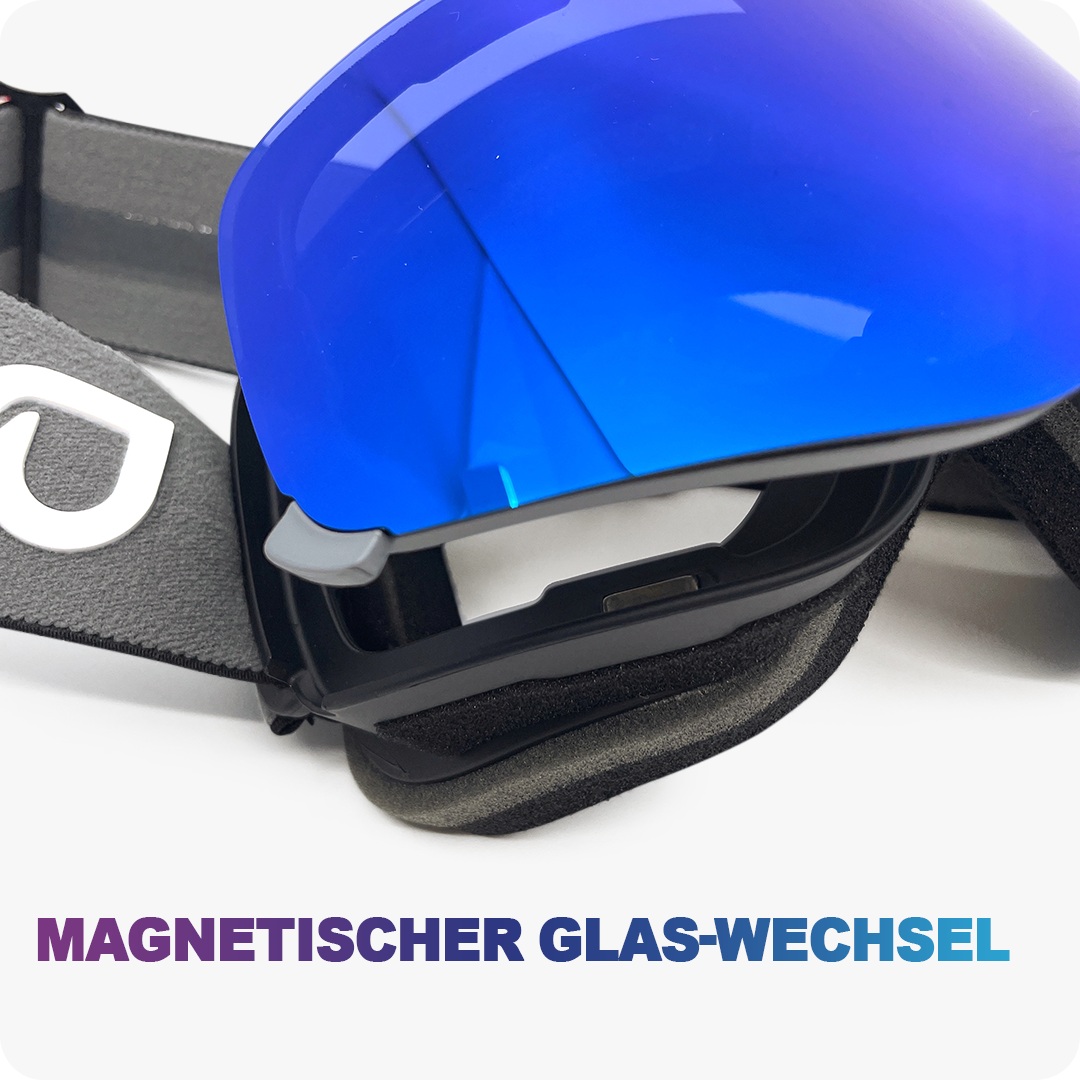 MAGNETIC LENS CHANGE
✅ SECURED WITH RARE EARTH MAGNETS

✅ CHANGE LENS WITH ONE CLICK

Change your lens without removing your gloves or helmet. Our rare earth magnets keep the lens firmly in place, even in the event of a fall.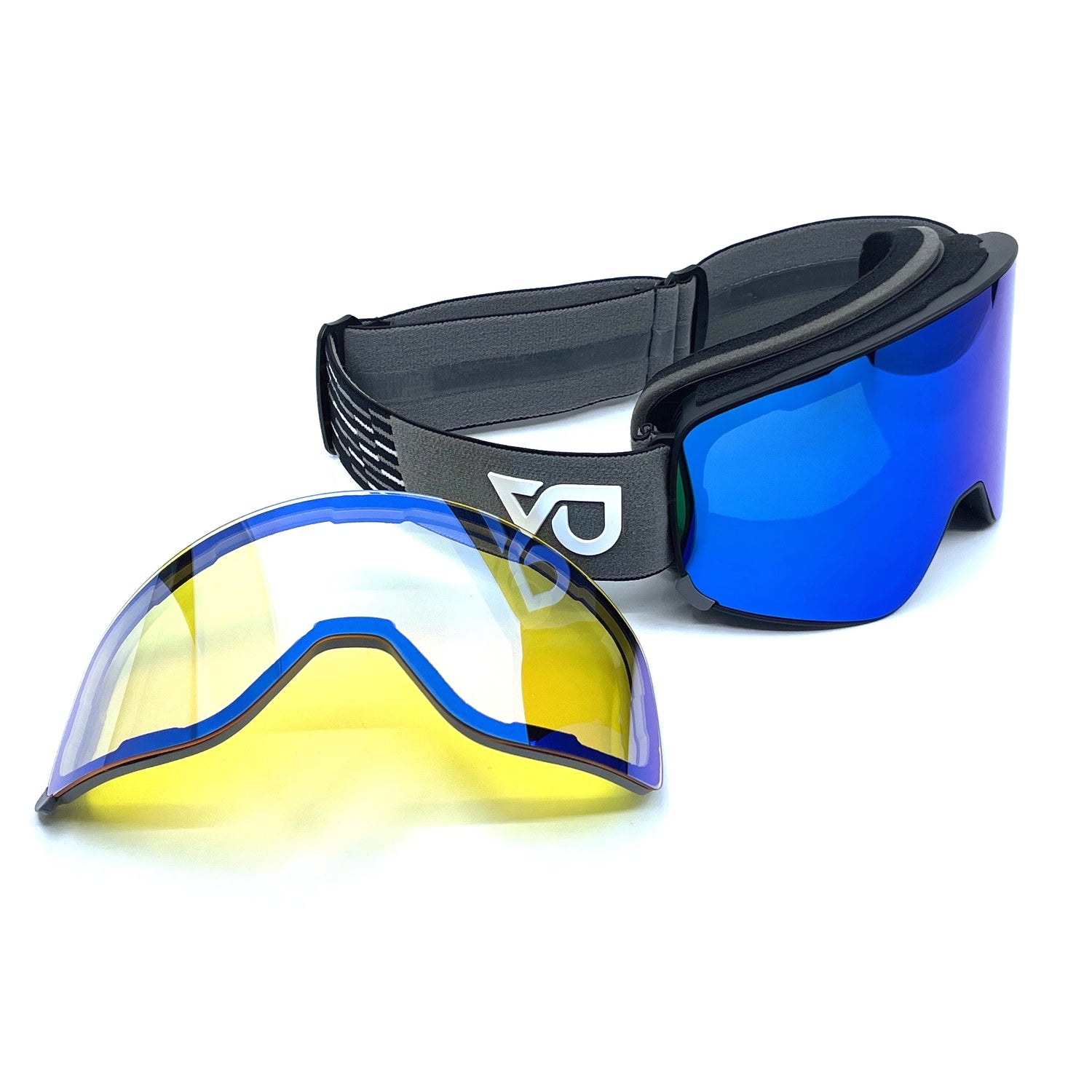 BEST SKI GOGGLES FOR POOR VISIBILITY​
✅ PERFECTED YELLOW TINT

✅ DESIGNED FOR FOG AND POOR VISIBILITY

Two lenses included for perfect vision, even in bad weather. Category S3 (blue) or S4 (black) for sunny days and category S1 for poor visibility.

Our glasses are designed to make your skiing day perfect even in bad weather or fog. The yellow tint with high contrast gives you the best view
Bewertungen 4.7/5
Load more
TOP TECHNOLOGY
MAGNETIC QUICK CHANGE SYSTEM

Exchange your lens with one click without taking off your helmet or goggle and rely on the power of the strong magnets.
Over The Glasses (OTG)

The second generation of our wildly successful Blaze, is newly equipped with "Over the Glasses" (OTG) compatibility. Hence you can simply wear your prescription glasses under your ski goggle.
BLUEBIRD POLARIZED LENS VLT 8% (Black) / 14% (Blue)

Polarized TAC-lens (tri-acetate cellulose) developed in Switzerland. Perfect for sunny days, our polarized lens technology is specifically designed to reduce glare from snow while maintaining perfect definition. All Vertical Unit lenses offer the highest level of protection with 100% UV protection up to 400 nanometers, suitable for high altitudes.
LOWLIGHT WHITEOUT LENS VLT 76%

Our lowlight lens is developed and perfected in Switzerland to give you the best visibility when conditions deteriorate. The perfect combination of lens tint and coating provides an excellent white Landscape definition with a VLT value of 76%. All lenses of the Vertical Unit offer the highest level of protection with 100% UV protection up to 400 nanometers, suitable for high altitudes.
DUAL LENS-TECHNOLOGY

Aviation Technology - An air pocket between the inner and outer layers prevents condensation and fogging of the lenses. Thus, a perfect view is guaranteed even under the most difficult conditions
ANTI-SCRATCH AND ANTI-FOG

We guarantee absolutely fog-free lenses on our goggles. In addition, the scratch-resistant coating ensures that your lens stays clear for longer. All coatings undergo optical quality testing by our team in Switzerland.
DISTORTION FREE CYLINDRICAL LENSES

An extreme wide field of vision in all directions helps to assess the situation correctly without having to lean forward. A flexible TPU frame with triple comfort foam padding guarantees a perfect fit.
PREMIUM ANTI-SLIP EMBROIDERED STRAP

An anti-slip coating on the goggle strap ensures optimal grip on the helmet
UNISEX

Suitable for all genders - Designed for adults and teenagers over 16 years old. All of our riders love the fit and style.

DIE URSPRÜNGE DER VU BLAZE
Vertical Unit wurde im Jahr 2017 von Martin W. und Barry K. gegründed, weil die beiden Berg-begeisterten Freunde nicht verstehen konnten warum hoch funktionelle und stylische Ski und Snowboard Brillen so teuer sein sollten.
No middlemen
Our products come directly to you, without middlemen, to offer you the best value for money.
5 GUARANTEES
We are sure that you will love your VU glasses. Don't trust us, trust the numbers. Less than 1% return rate speaks for satisfied customers.
HELMET FIT GUARANTEE

If the goggles do not fit with your helmet, you will get the full purchase price back.

SATISFACTION GUARANTEE

If for any reason you are not satisfied with your glasses, we will refund the purchase price.

LIFETIME WARRANTY

If your lens breaks for any reason, you get a full refund at any time.

REPLACEMENT GUARANTEE

Replacement or support within 2 days CH, 5 days EU

SERVICE GUARANTEE

As a customer, you can always rely on our customer service to get support within 24 hours